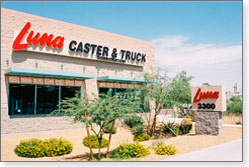 Showroom Hours
Mon-Fri 8:00am - 4:30pm
Showroom Location
2230 W McDowell Road
Phoenix AZ 85009
Luna Caster & Truck is a master, stocking distributor of casters, wheels and non-powered material handing equipment. Founded in 1944 by Ted Luna, Luna Caster and Truck has become one of the oldest and most respected names in the industry. An extensive product line representing the world's premier manufacturers offers mobility solutions for standard and special applications. By stocking the majority of inventory at the individual component level, Luna Caster and Truck has the flexibility to assemble casters and trucks to specific customer requirements. Ted Luna built his reputation on a pledge of unbeatable value, selection and service that will never change.